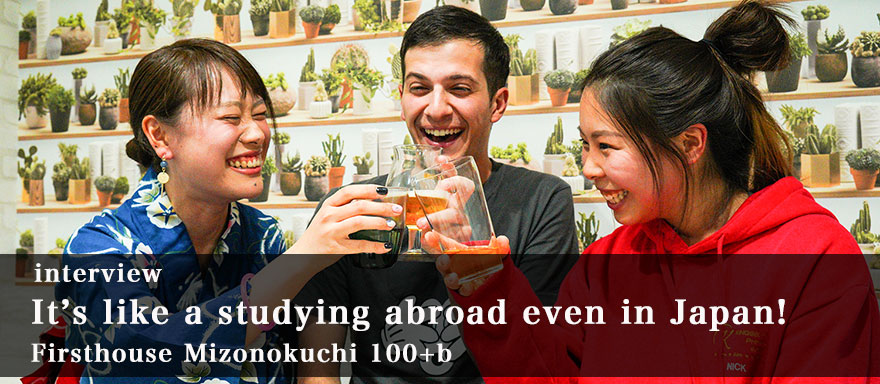 Firsthouse Mizonokuchi 100+b" is 13 min walk away from Mizonokuchi station. It is very convenient even go to 13 min for Shibuya station. Transportation is also convenient because Dennentoshi Line, Ooimachi Line, and JR Nanbu Line are available. Even with 25 min for business town "Shinagawa" station and 5 min for the good town for walking through the road "Jiyugaoka" station, the town of Mizonokuchi is an old town but it is relaxing to live and have a warmth that is easy to blend with the local people.
First, we'll introduce the private space! There are 4 tastes of rooms. "I want to choose the chic room" "I want to live in a cute and natural taste of room" You can choose your own style. The rent range is from 60,000 yen~66,000 yen depending on a room.
 The first feature of "First House Mizonokuchi 100+b" is the spacious living room.Residents in various countries are deepening their exchanges through the daily lives  such as night and evening game competitions and drinking party. 
The living room is also connected to the kitchen and pool table."It is billiards when you want to play with everyone," "It's a sofa space when you want to see TV with relaxing." It is attractive to relax as you want. On the event day, lots of residents gather and participate in like this.
You can use this space freely and relax.
We do not need words to enjoy billiards!  Billiards is popular in this share house because it is a game that can be enjoyed in large numbers regardless of nationality.
 Share house extends my world